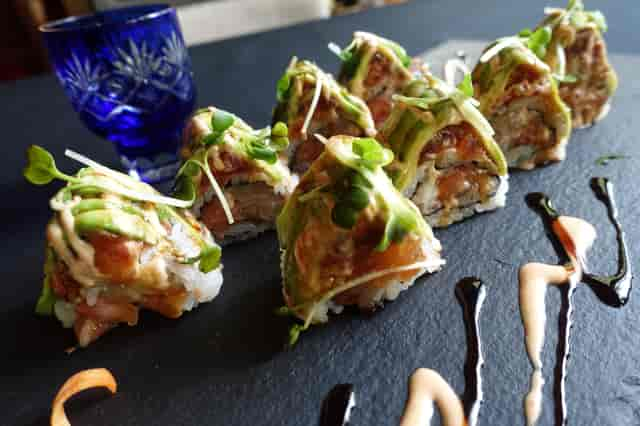 Main Dining & Sushi
Check us out!
Thinking about enjoying a traditional Japanese dining experience in our Main Dining Room or Tatami Room, don't take our word for it when we say it's an unforgettable experience. Here is a recent review from Catherine B on Google …
"My husband reserved one of the tatami rooms for my birthday. I expected to take my shoes off and I expected to sit on the floor. What was a pleasant surprise was they had a space under the table for us to sit "normally" (by western standards) so we could sit comfortably without worrying about our legs going to sleep or going numb. 

The menu we were provided was all planned by the chef and was a nice difference to what we're used to where you order off the menu what you want. Meaning our dinner was picked for us. I don't know if this is something normal for those that are in the upper classes but I can say we've never experienced this and it was absolutely wonderful. I would not recommend doing this kind of dining if you are a picky eater or are not willing to try new things. Our chef was 26 years old and needed a translator to come with him when we asked to meet him to thank him for the wonderful meal. This solidified even further with me that the food was authentic. Even the wasabi was real instead of the paste substitute you get at other restaurants (and yes you can tell a distinct difference between the two). 

Everything was nothing short of perfect, beautiful, fresh and clean. Our waitor was very polite and engaging. He knew everything about what we were eating and gave us instruction how to eat each dish, where it came from etc. I cannot praise this place and the people enough. I would give more than 5 stars if I could. We will definitely come again and will try reserving the tatami room again at different times of the year to see how the menu changes as the seasons change."